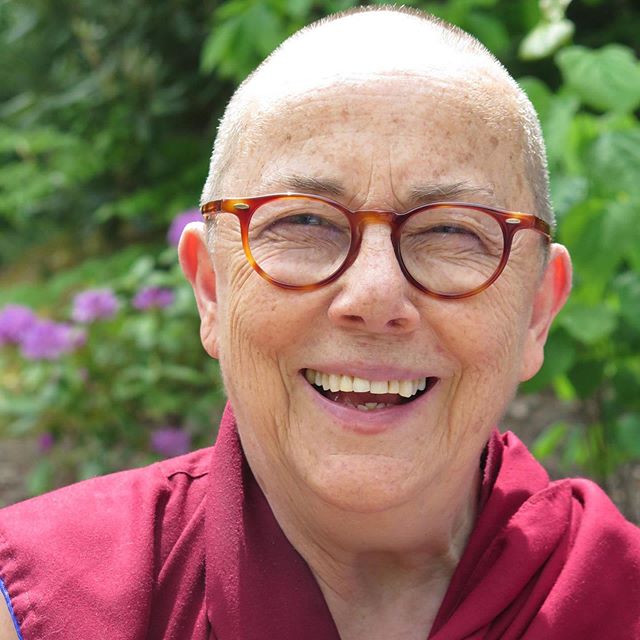 Robina Courtin a été élevée dans la religion catholique, et durant sa jeunesse, envisagea de devenir Carmélite. Dans les années 1960, elle suit une formation de chanteuse classique à Londres où elle vit alors. Au début des années 1970, elle devient une militante féministe et travaille sur le droit des prisonniers. En 1972, elle retourne à Melbourne. En 1974, elle commence à étudier les arts martiaux, part à New York puis revient à Melbourne.
En 1976, elle assiste dans le Queensland, à des enseignements bouddhistes donnés par Lama Yeshe et Lama Zopa. En novembre 1977, Robina Courtin voyage jusqu'à Katmandou, au Népal pour étudier au Monastère de Kopan, où elle est ordonnée nonne bouddhiste. Elle devient directrice de la maison d'édition bouddhiste Wisdom Publications jusqu'en 1987, puis rédactrice en chef de la revue « The Mandala » jusqu'en 2000. Elle quitte « The Mandala » pour enseigner et développer le : « Liberation Prison Project. »
Depuis plus de 10 ans, elle vient chaque année à l'Institut pour y donner des enseignements.
Events with Vénérable Robina COURTIN:
Upcoming Event Dates with Vénérable Robina COURTIN:
Sorry. No upcoming event dates with this facilitator
Past Event Dates with Vénérable Robina COURTIN:
Sorry, no past event dates with this facilitator