Vénérable Thubten Chodron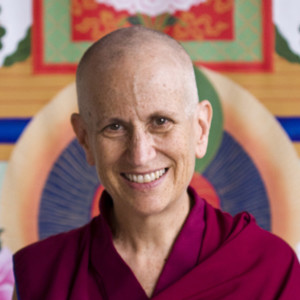 La Vénérable Thubten Chodron a suivi en 1975 un cours de méditation donné par Lama Yéshé et Kyabjé Lama Zopa Rinpoché, et s'est ensuite rendue à Kopan, leur monastère au Népal, pour continuer à étudier et à pratiquer les enseignements du Bouddha. En 1977, elle a reçu l'ordination de novice de Kyabjé Ling Rinpoché, et en 1986 elle a reçu l'ordination de bhikshuni (complète) à Taiwan.
Elle a étudié et pratiqué le bouddhisme de la tradition tibétaine pendant de nombreuses années en Inde et au Népal sous la direction de Sa Sainteté le Dalaï-Lama, de Tsènshap Serkong Rinpoché, de Kyabjé Lama Zopa Rinpoché et d'autres maîtres tibétains. Elle a dirigé le programme spirituel de l'Institut Lama Tzong Khapa en Italie pendant près de deux ans, a étudié trois ans au monastère Dorjé Pamo en France (qui se trouvait alors à l'institut) et a été enseignante résidente au Centre Bouddhiste Amitabha à Singapour. Pendant dix ans, elle a été enseignante résidente à la Dharma Friendship Foundation à Seattle.
La vénérable Chodron a fondé l'abbaye de Sravasti, une communauté monastique bouddhiste au nord de Spokane, WA, dont elle est l'abbesse. Il s'agit du seul monastère de formation bouddhiste tibétaine pour moines et nonnes occidentaux en Amérique.
Le Vénérable Chodron met l'accent sur l'application pratique des enseignements du Bouddha dans notre vie quotidienne et est particulièrement habile à les expliquer de manière à ce qu'ils soient facilement compris et mis en pratique par les Occidentaux. Elle a publié de nombreux livres sur la philosophie et la méditation bouddhistes en plusieurs langues, et est actuellement co-auteur avec Sa Sainteté le Dalaï-Lama d'une série d'enseignements en plusieurs volumes sur la voie bouddhiste, The Library of Wisdom and Compassion.
Events with Vénérable Thubten Chodron:
Upcoming Event Dates with Vénérable Thubten Chodron:
Sorry. No upcoming event dates with this facilitator
Past Event Dates with Vénérable Thubten Chodron:
Sorry, no past event dates with this facilitator